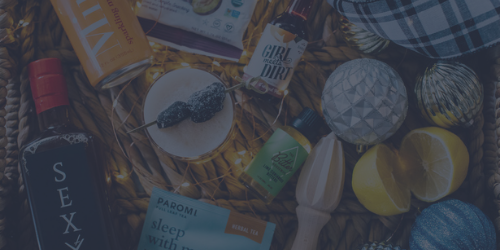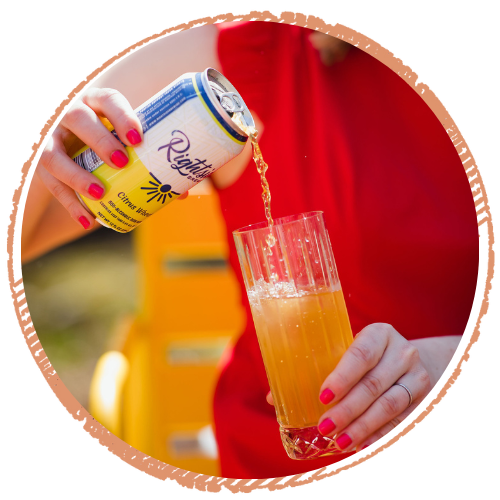 JUNE 2023 - We adore a good slow-sipper, but when it comes to quenching your thirst on scorching summer days, nothing beats the classic shandy.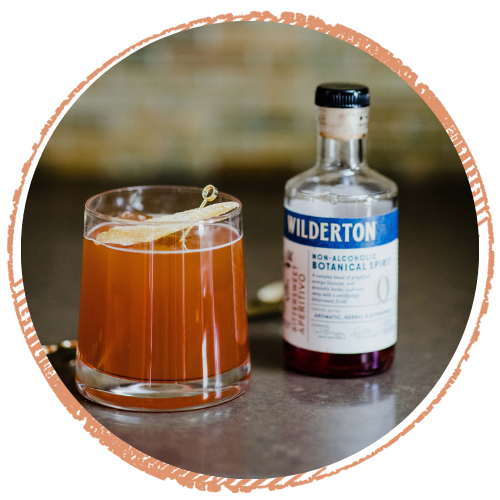 MAY 2023 - Spritz season has arrived! Our ode to the bitter, intricate, and captivating flavors of this iconic drink is perfect for indulging in while lounging with a page-turner or entertaining guests al fresco. Elevate any occasion with this refined and polished take on a classic spritz.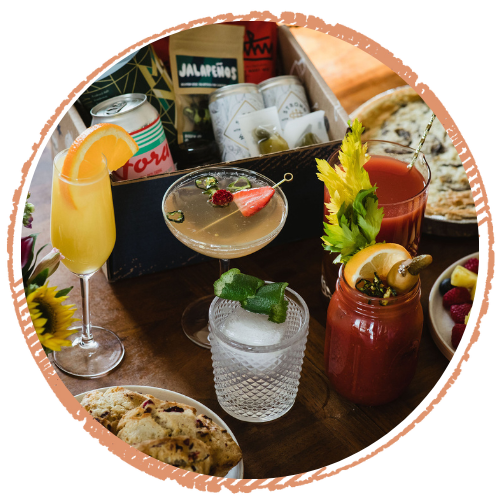 APRIL 2023 - Enjoy four perfectly crafted brunch-worthy alcohol-free cocktails, including our take on the Bloody Mary - a "Red Herring!" Featuring a full-size bottle of Monday Gin, there is something for every pallet.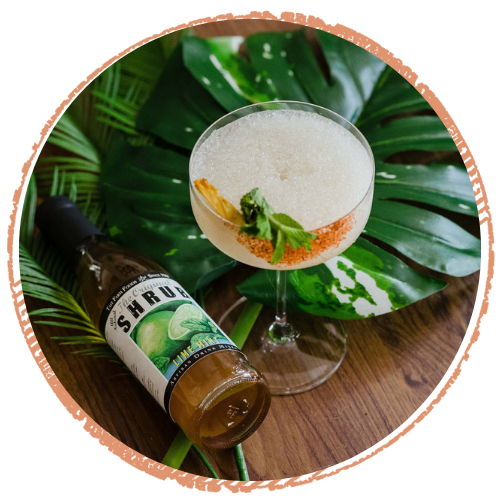 MARCH 2023 - Tropical, tantalizing & refreshing...this month's box will transport you to warmer weather and sunnier days.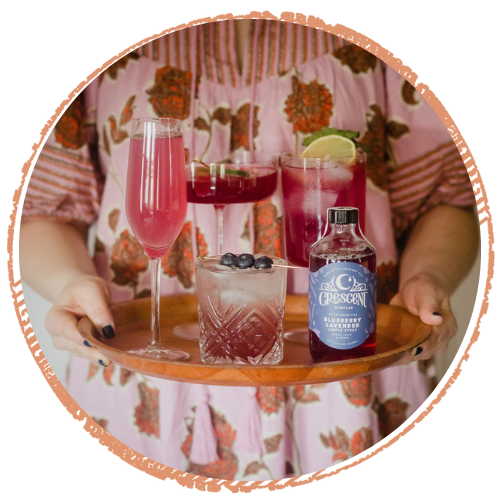 FEBRUARY 2023 - You'll wanna stay in that Lavender Haze once you try this zero-proof take on a classic champagne cocktail. A bold punch of color from butterfly pea flower tea combines with flavors of blueberry, lavender, and cucumber for a crisp and refreshing twist on an old favorite - the French 75.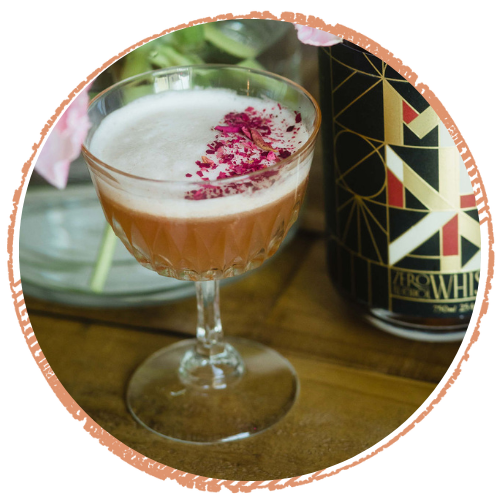 JANUARY 2023 - Our feature drink this month puts a modern and sophisticated twist on the classic sour. Rugged and vibrant flavors of whiskey mixed with delicate and subtle flavors of rose create a silky smooth cocktail that is sure to be put a zero-proof rosy glow on your face!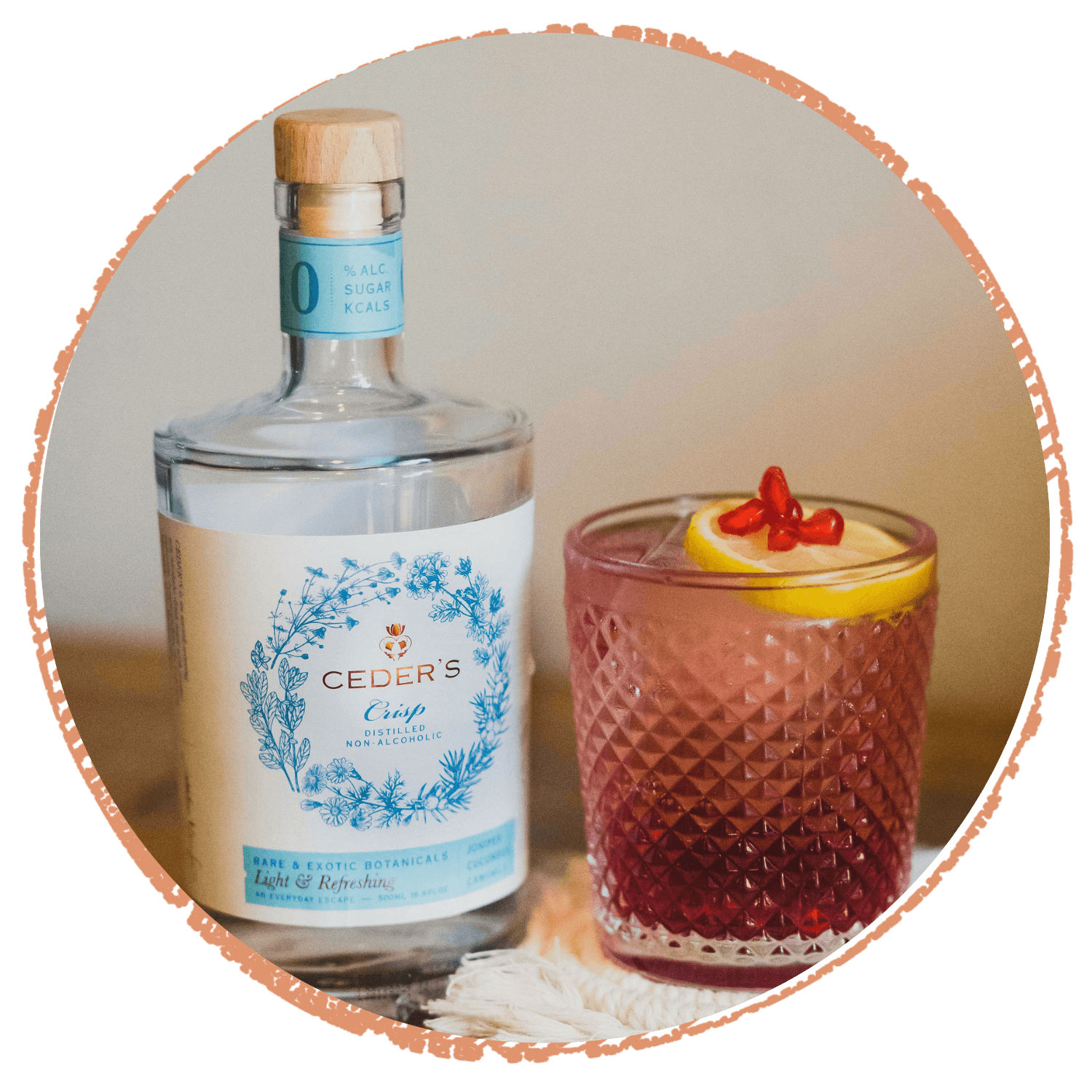 DECEMBER 2022 - This month's box is all about rosy hues and warming spices. AVEC & Portland Syrups bring the beautiful floral color to to the party, while All the Bitter's alcohol-free aromatic bitters offer a punch of spice. The silicone rose ice mold will liven up your drinks all winter long! Thanks to All the Bitter for creating this month's feature drink recipe.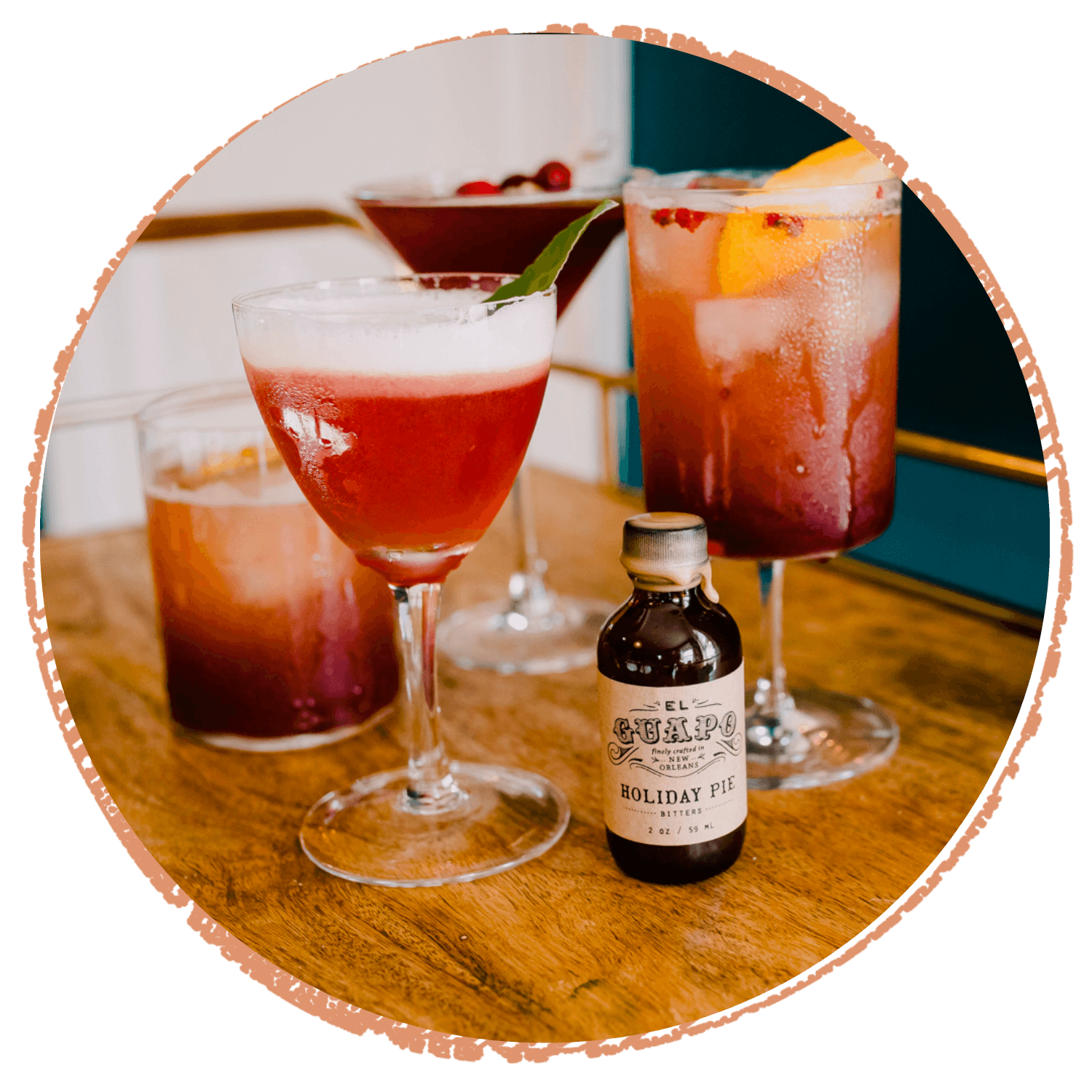 NOVEMBER 2022 - It's all about spice, spice baby this month - warming, vibrant flavors that lean into cozy nights with the ones you love best. Featuring El Guapo alcohol-free Holiday Pie bitters, this one will get you ready to host and entertain!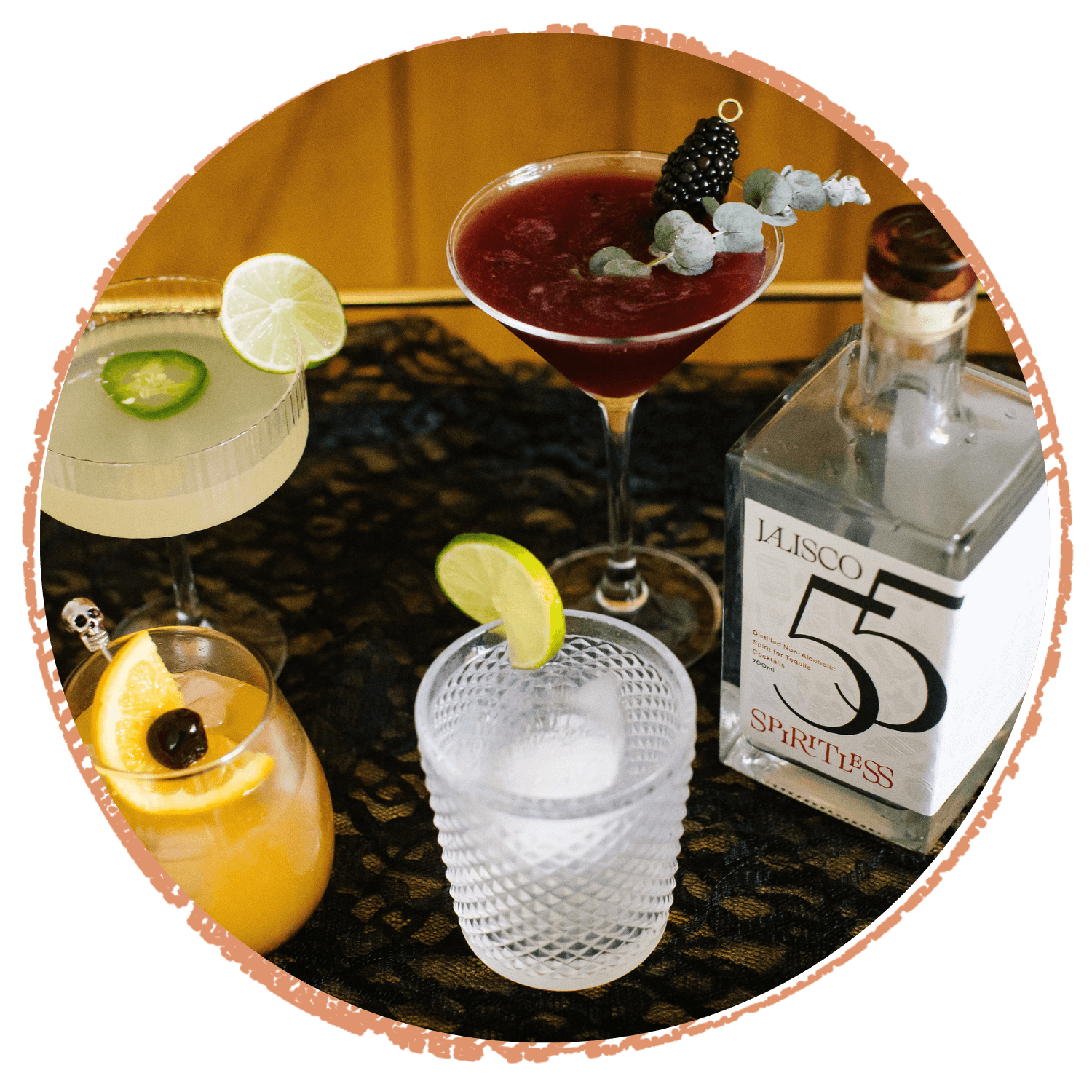 OCTOBER 2022 - The Spiritless Jalisco 55 offers the classic reposado tequila experience without the hangover. Ghost Town highlights this complex spirit with bright notes of yuzu and a little punch of spice from the Jalapeño Hex syrup.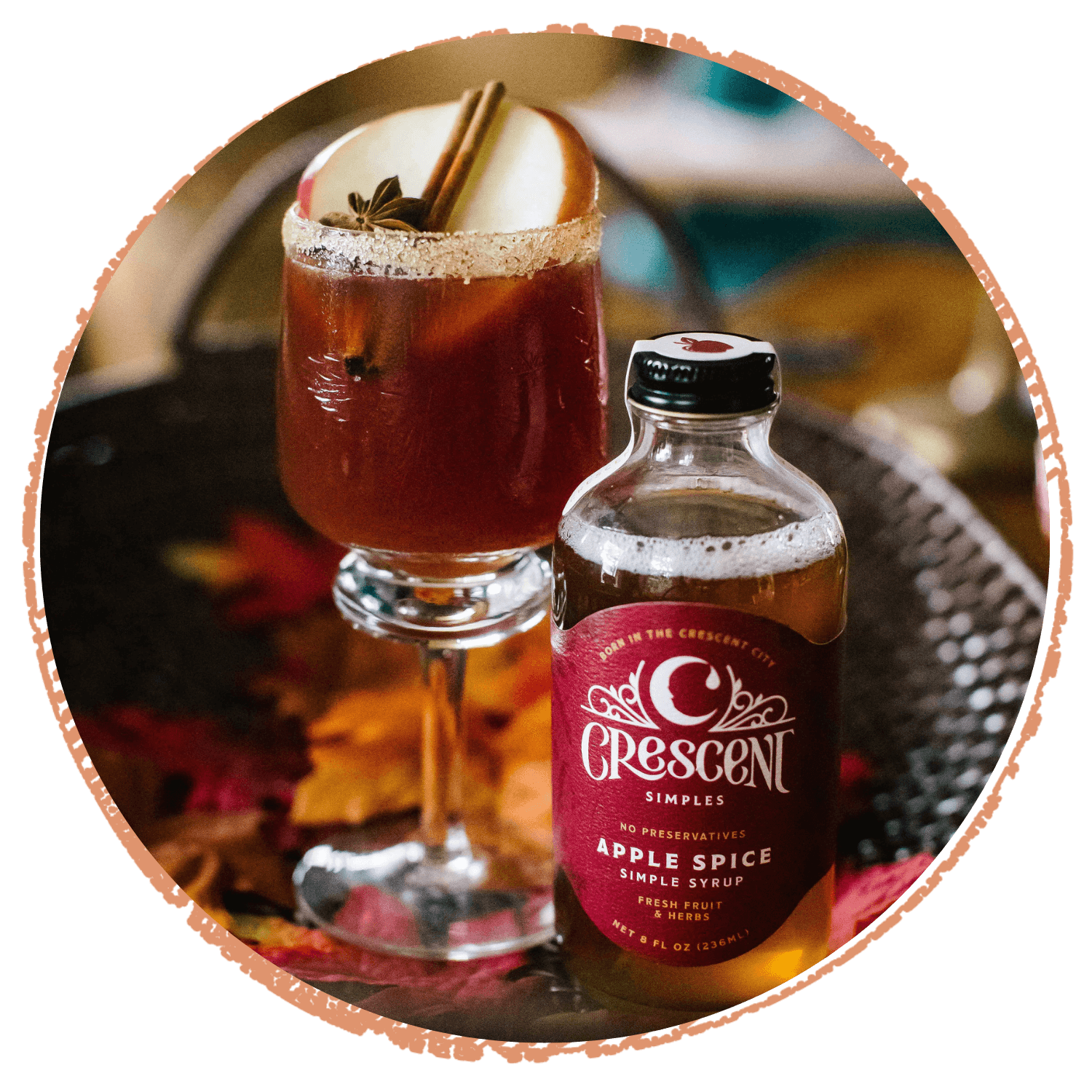 SEPTEMBER 2022 - Autumn is a time of transformation. The weather is getting cooler, days are growing shorter, and leaves are changing from green to gold. To capture the magic of the shifting seasons, we've concocted an elixir that juxtaposes sweet apples, tart rhubarb, and bold elderberry fire brew. Scan the QR code below to access RTB Member's Only page for additional recipes and tutorials using this month's ingredients!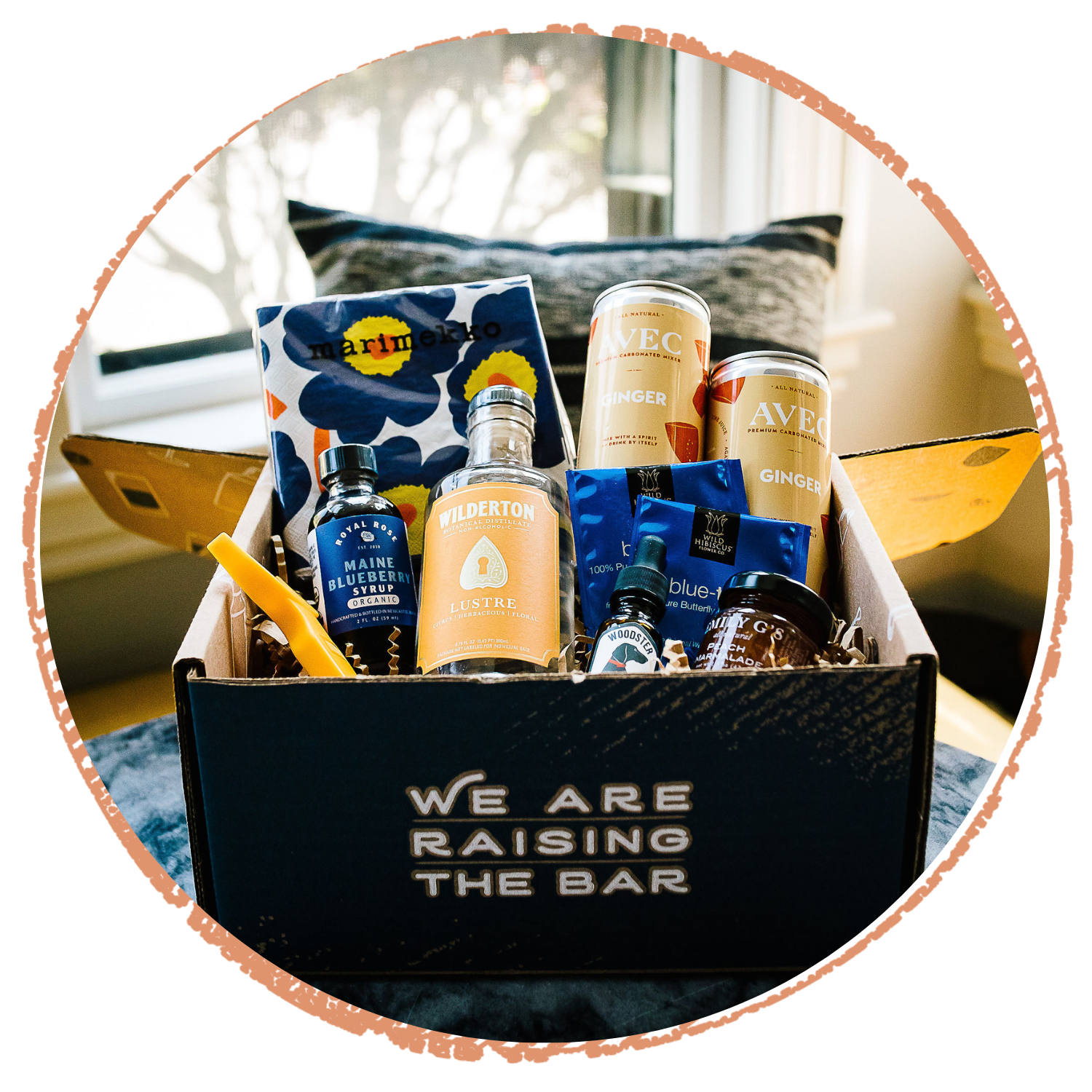 AUGUST 2022 - There is something so magical about the golden hour in late summer - being bathed by warm light as the cool evening begins to roll in. This month, we're excited to highlight Wilderton Lustre, a bright, tangy botanical that pairs beautifully with sweet peach marmalade and spicy ginger - and embodies the golden hour in a glass.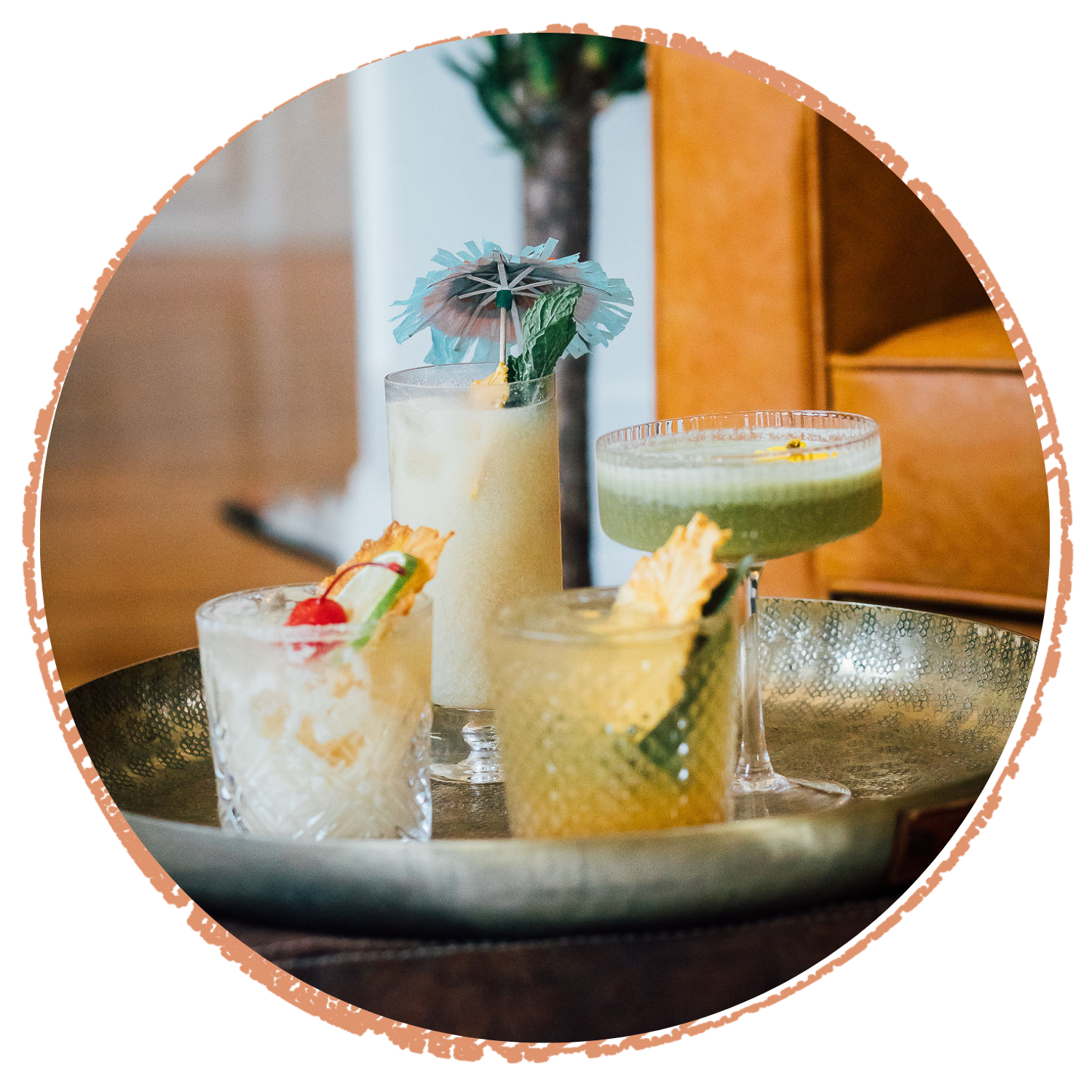 JULY 2022 - Thank you for reaching out. We are officially OUT OF OFFICE until further notice. With summer in full swing, we will be stepping away to unwind, disconnect, and savor delicious tropical-inspired cocktails. Cheers to being on island time for the foreseeable future.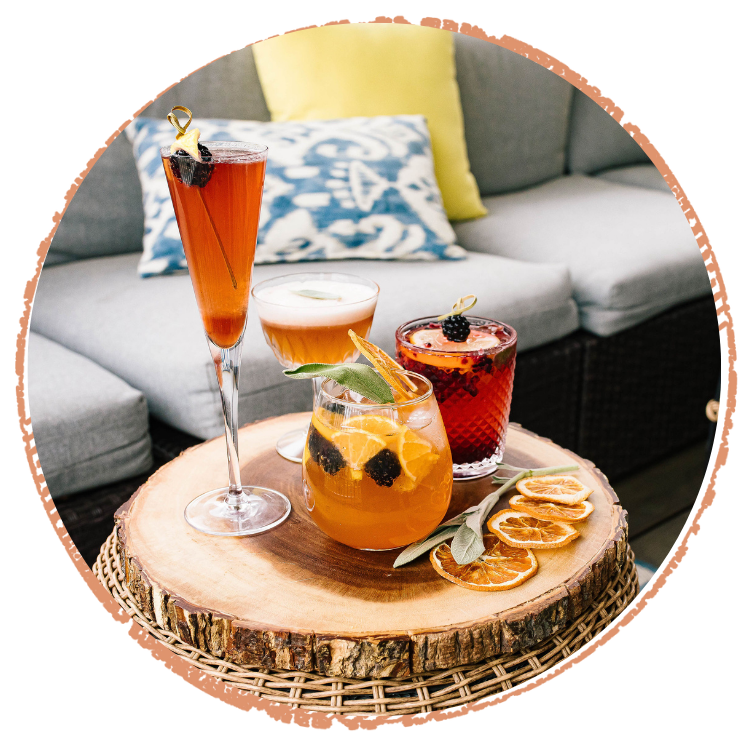 June 2022 - Nothing says summer like elegant, crisp bubbles and summer fruit paired with herbs. Jøyus sparkling wine is an award-winning bubbly that is incredible on its own or in mixed drinks. The blackberry sage syrup is a versatile one with the perfect blend of juicy berries and savory sage.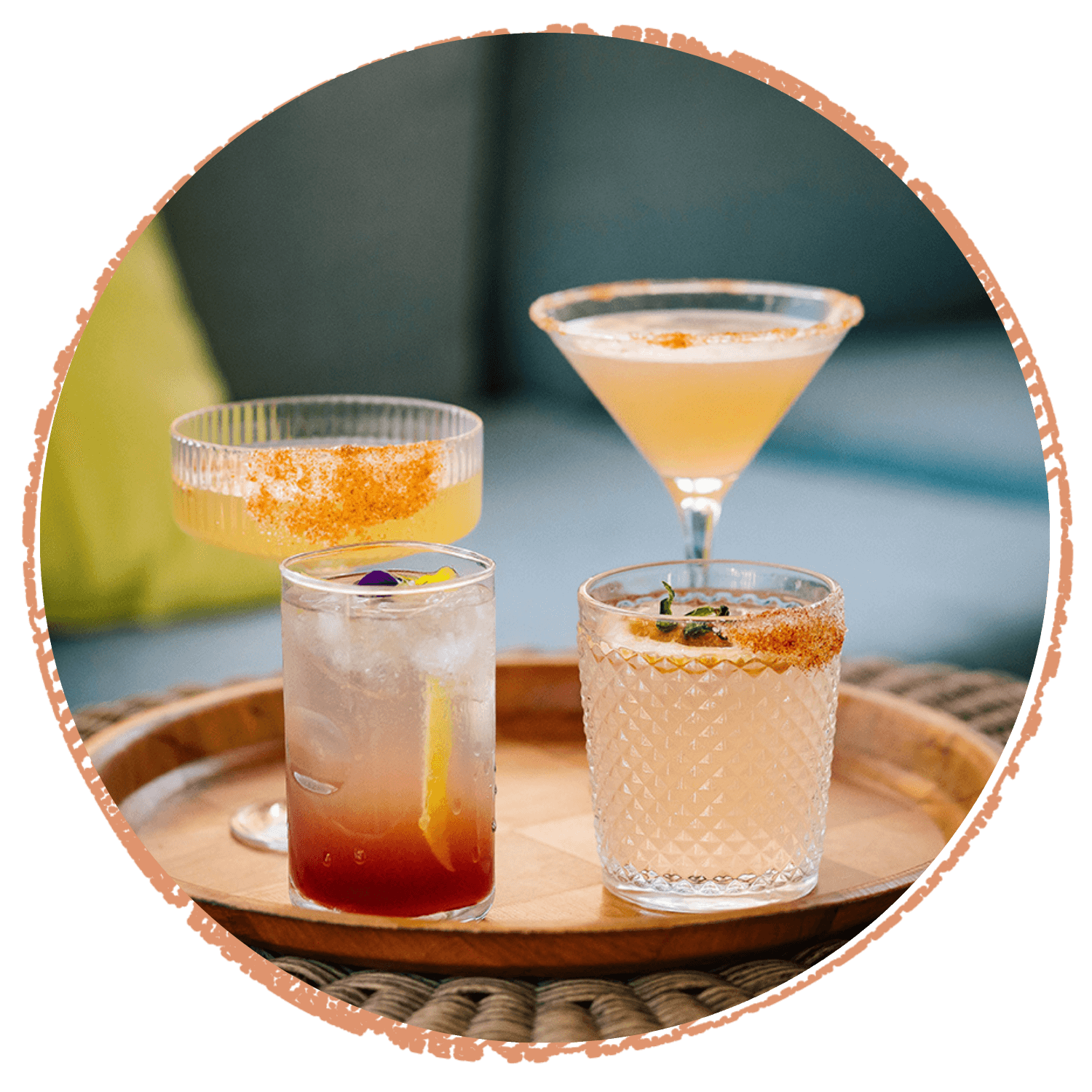 May 2022  - Summer is on its way. We're ready for evenings at the beach, breathing in the salty air and clutching refreshing, easy sippers like our feature drink this month, the "Pentire Paloma."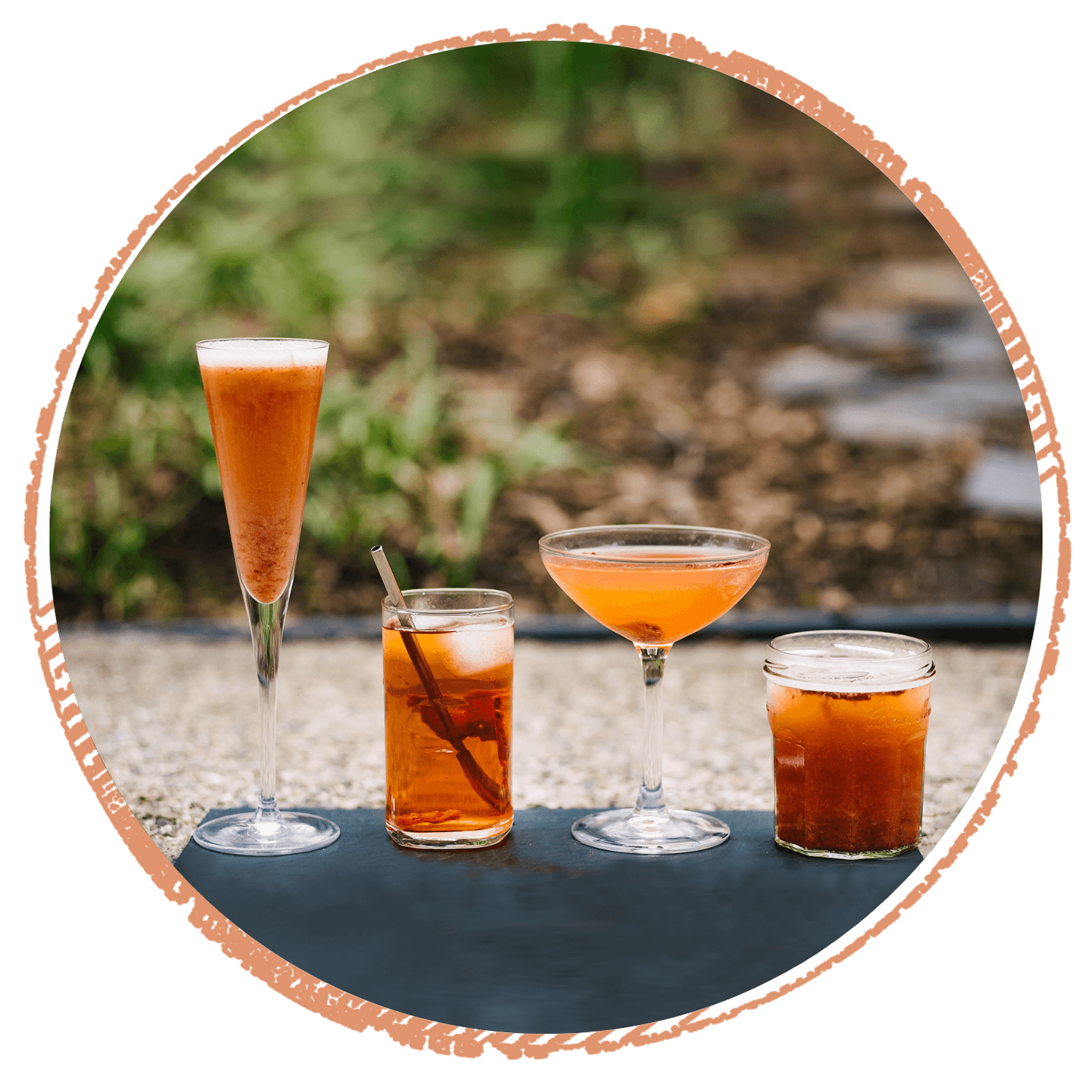 April 2022 - We're welcoming spring with open arms and featuring a lineup of drinks with bright and floral notes. This month's box features rosy, tart drinks perfect for sipping in the sun with friends.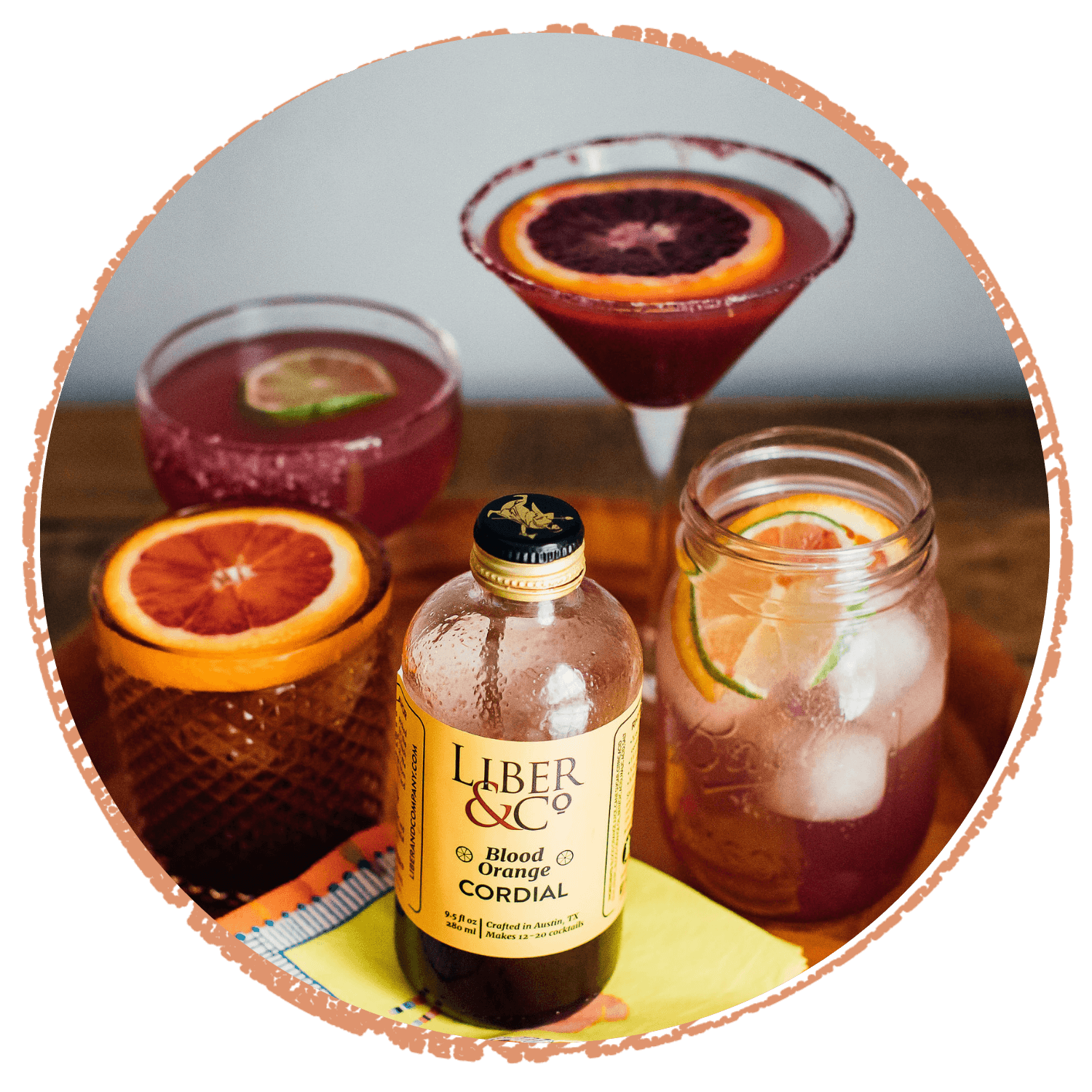 March 2022 - We're ready for warmer weather, vibrant colors, and festive flavors. This month's box features blood orange as the star, with supporting flavors of yuzu, saffron, hibiscus, and black lemon.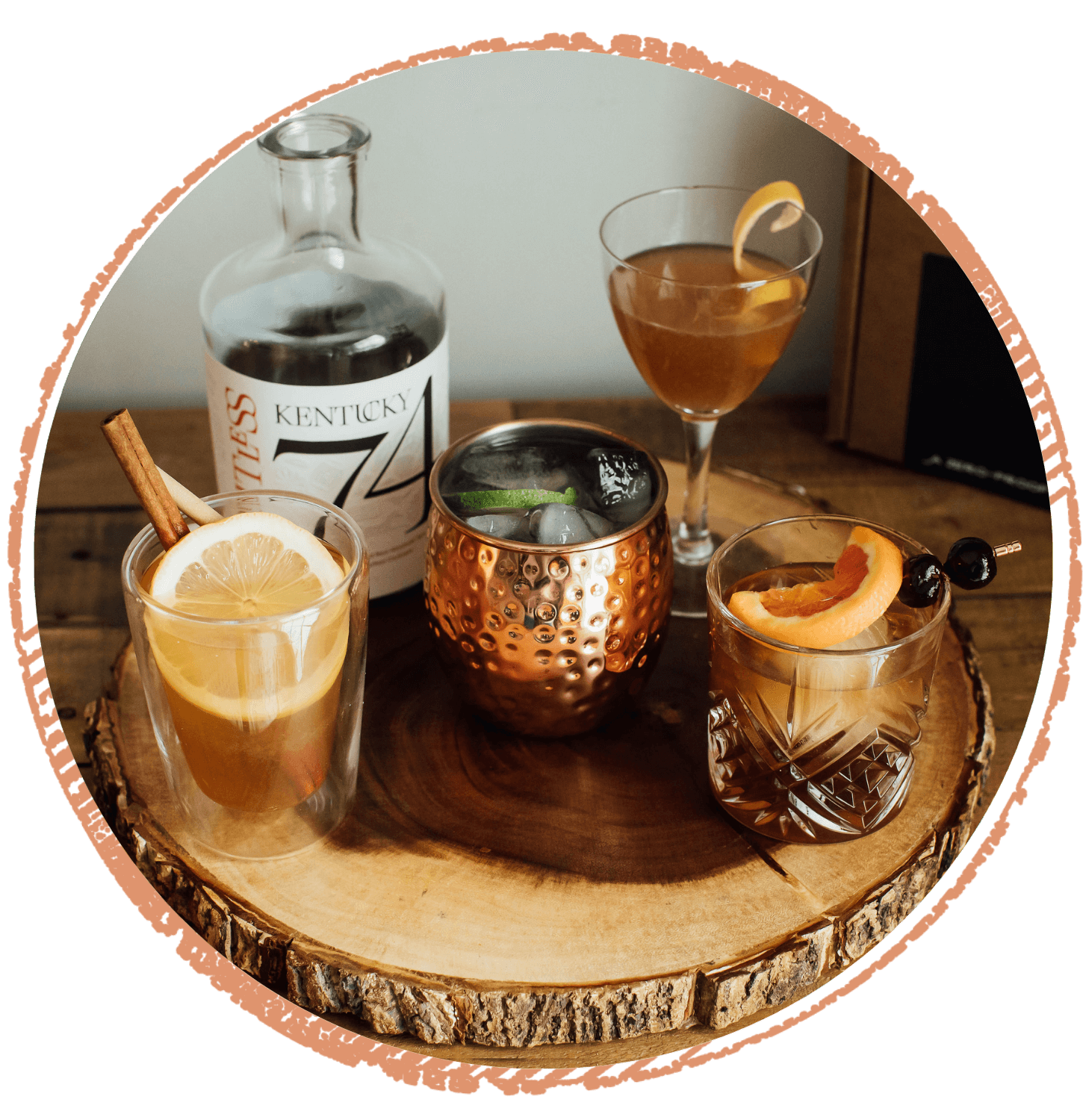 February 2022 - This box featured with four recipes highlighting Kentucky 74 bourbon alternative: a vanilla Old-Fashioned, a Kentucky Mule, a Brown Derby and a Smoked Tea Toddy.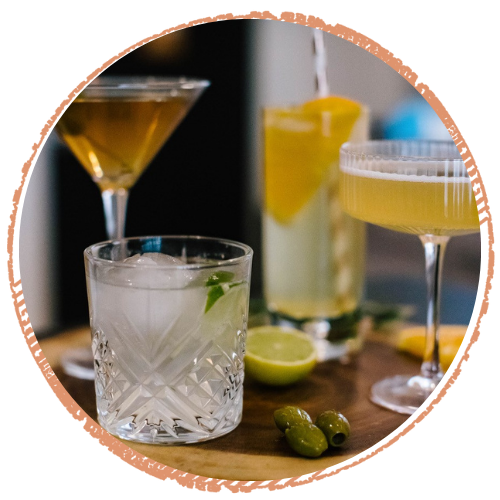 January 2022 - This box featured FOUR recipes spotlighting Monday Gin alternative - the Bees Knees, a G&T, a orange vanilla highball and a "dry" Martini.
December 2021 - We created a take on a traditional whiskey sour, with unexpected flavors of plum, lime, and coriander.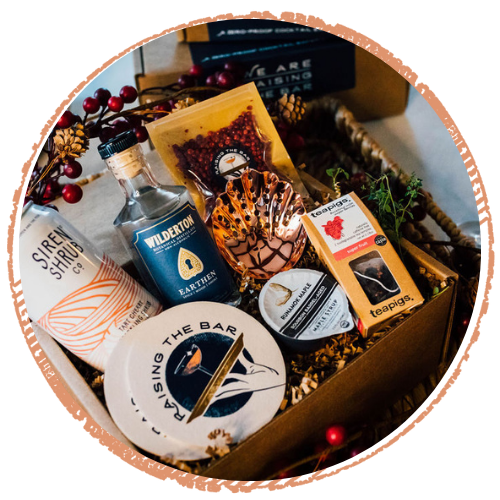 November 2021 - Boasting complex layers of flavors and a hint of effervescence, "Wanderlust" combines the sophisticated spiced palate of Wilderton Earthen with an intriguing blend of fruity and tart flavors.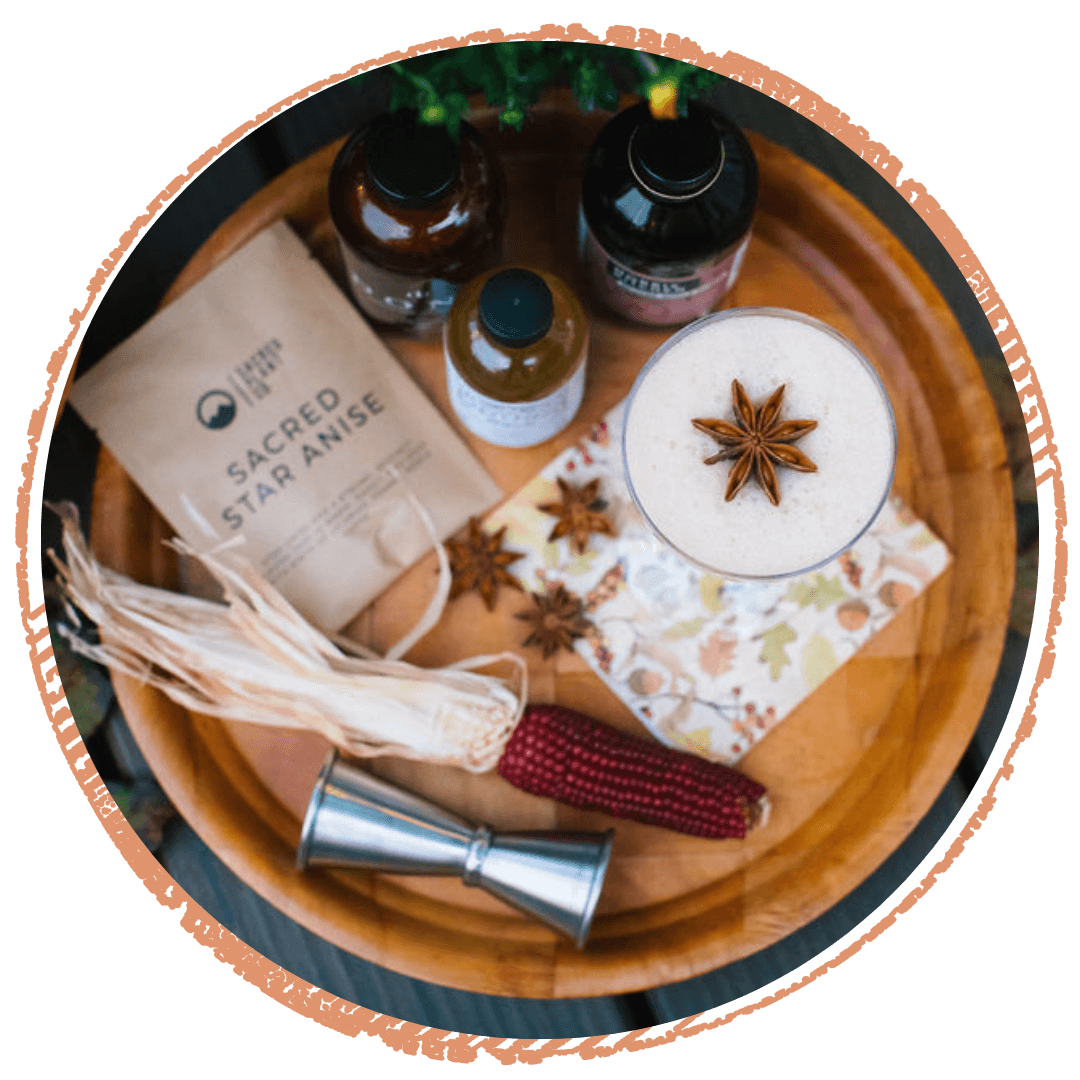 October 2021 - Fall is officially here, and we're embracing all things autumnal. Warming chai spices blend perfectly with spiced apple syrup and the brightness of ginger shrub - shake it all up with a creamy egg white for a spicy and sweet elegant fall drink.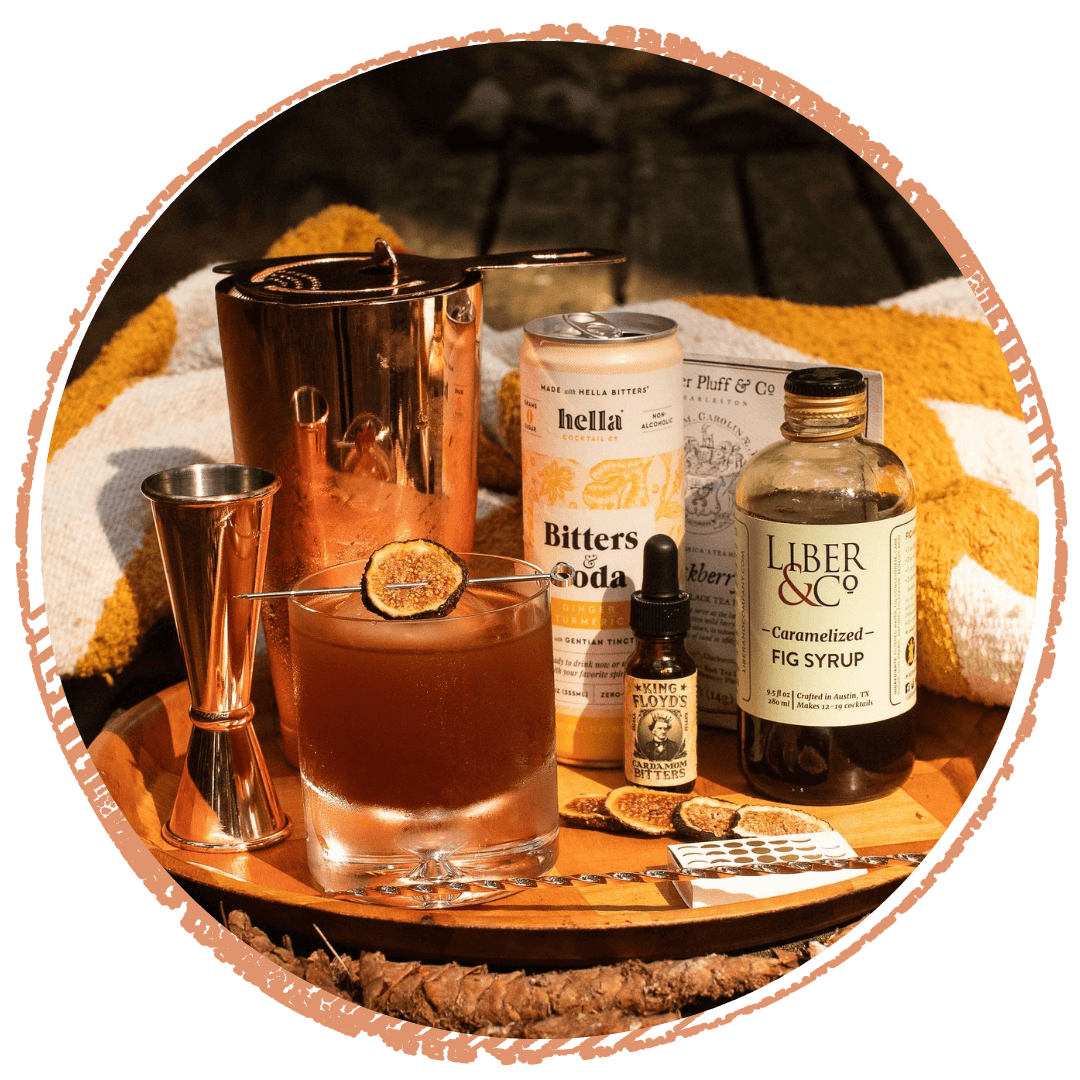 September 2021 - As the weather turns cooler, we're gravitating towards autumnal flavors. "Harvest Moon" uses blackberry black tea as a foundation, combined with rich fig syrup, cardamom bitters, and ginger & turmeric soda. This drink is the perfect way to welcome fall.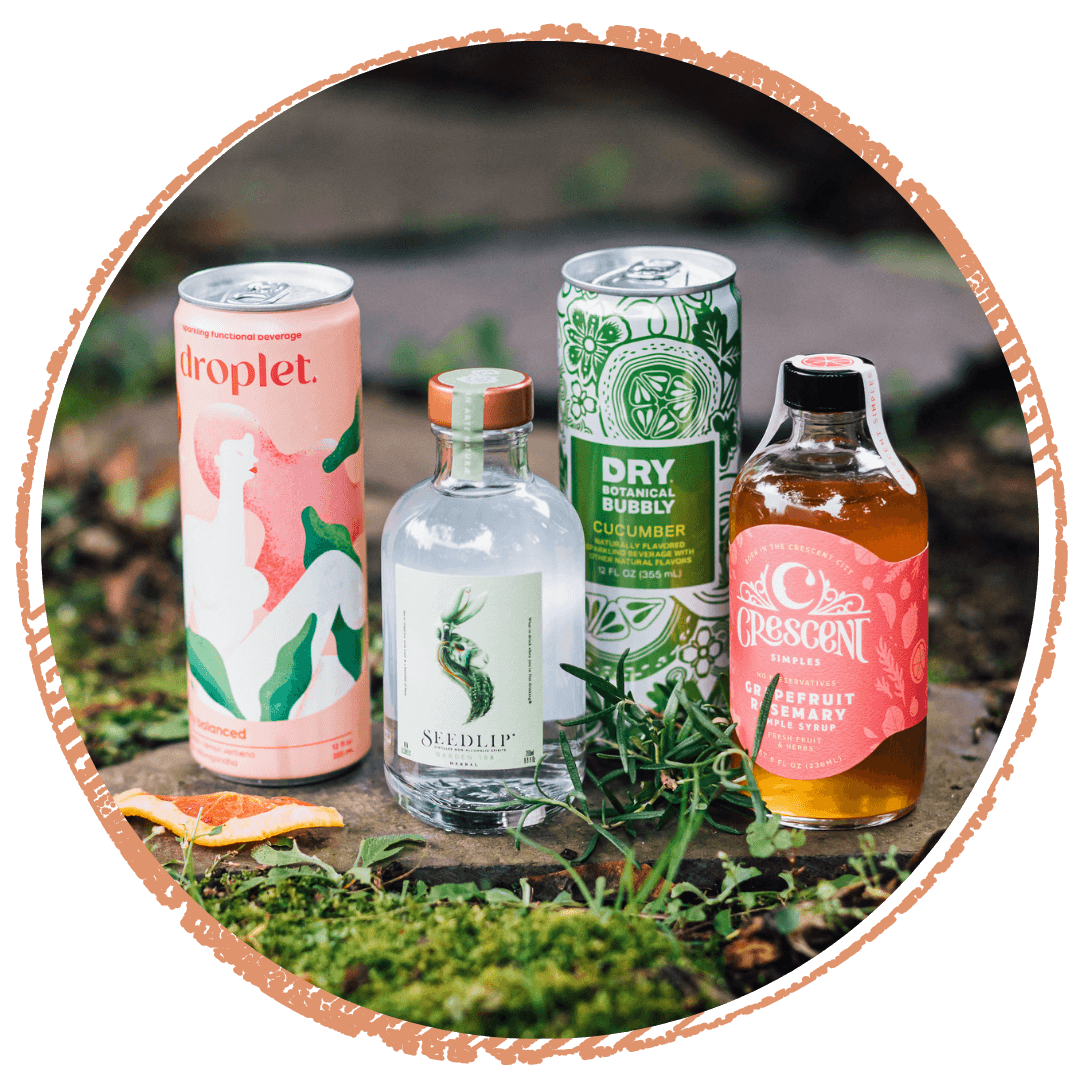 August 2021 - Herbaceous and citrusy, The Secret Garden can be enjoyed two ways – combine Seedlip Garden 108 with Crescent Simples Grapefruit Rosemary and top with the light taste of white peaches using the Droplet Pretty Balanced, or the refreshing crisp dryness of the Dry Botanical Bubbly Cucumber.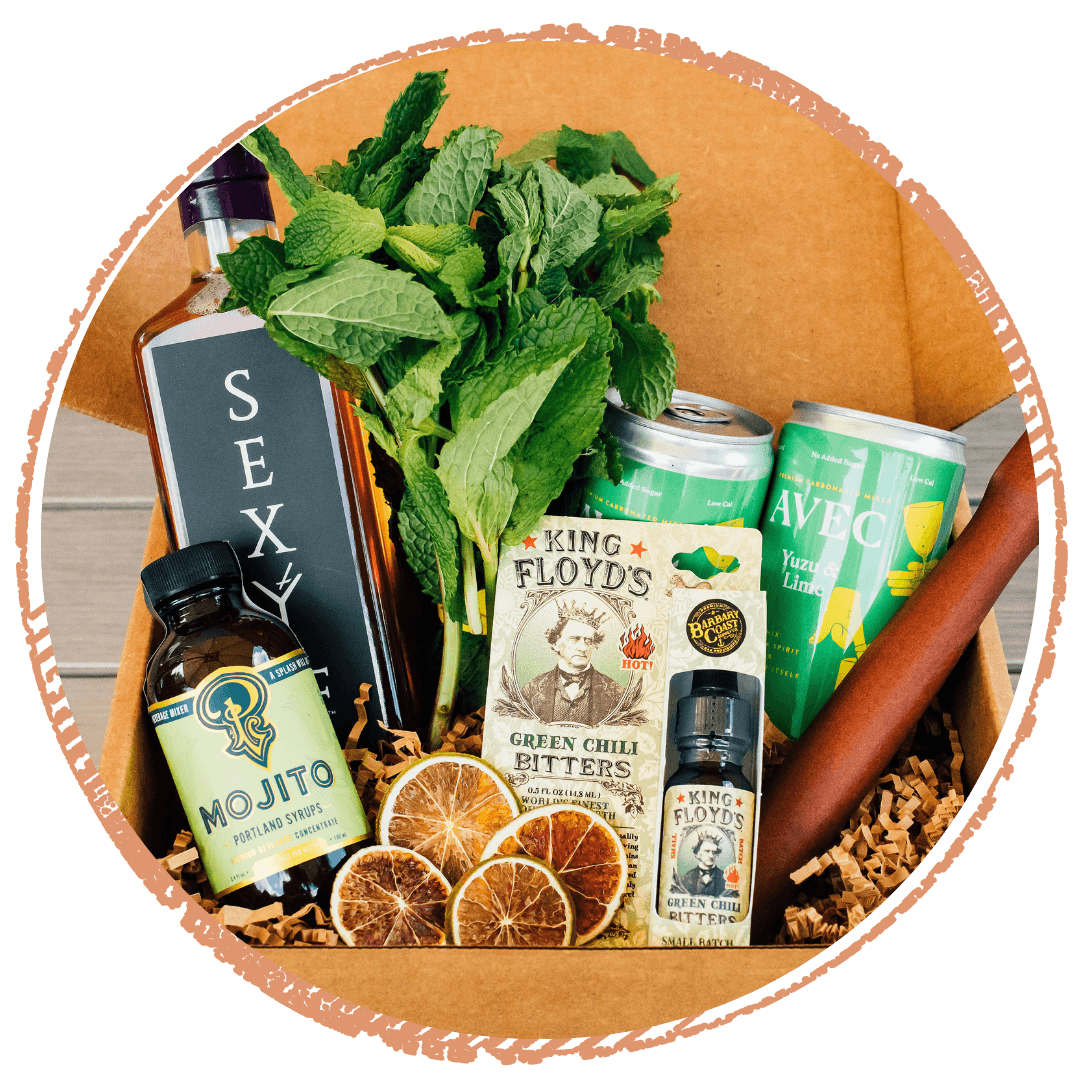 July 2021 - We spiced up the traditional Mojito with Sexy AF's Spiced Yum, a rum-style, alcohol-free spirit along with some heat from King Floyd's Green Chili bitters. Add in some fresh lime and mint and top with AVEC Yuzu & Lime.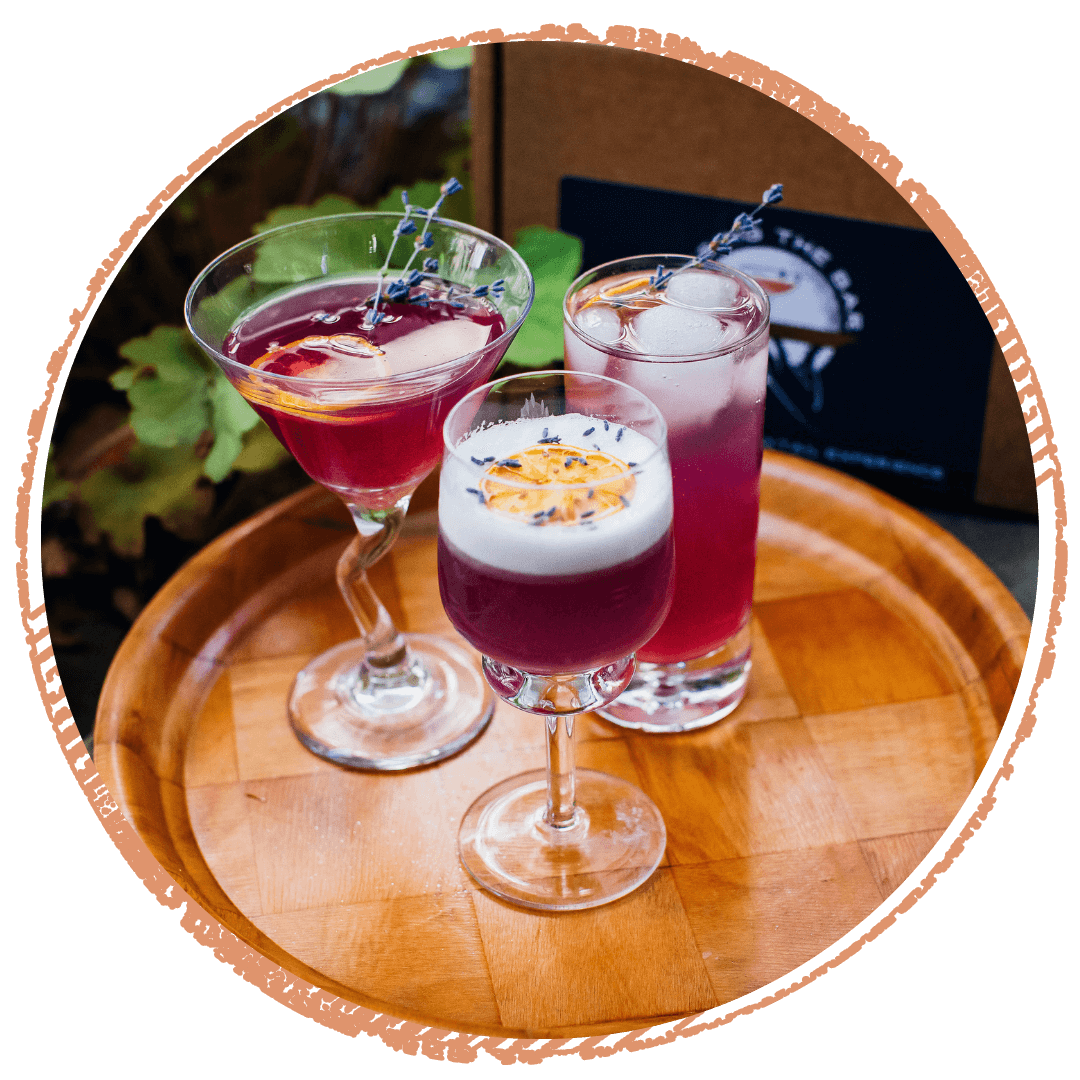 June 2021 - One cocktail, three ways! Lemon pairs beautifully with lavender in this drink, offsetting the sweet herbaceous notes with tart and bright citrus. This drink combines butterfly pea flower tea, Sorva lavender syrup, lemon juice, Floral bitters and edible glitter.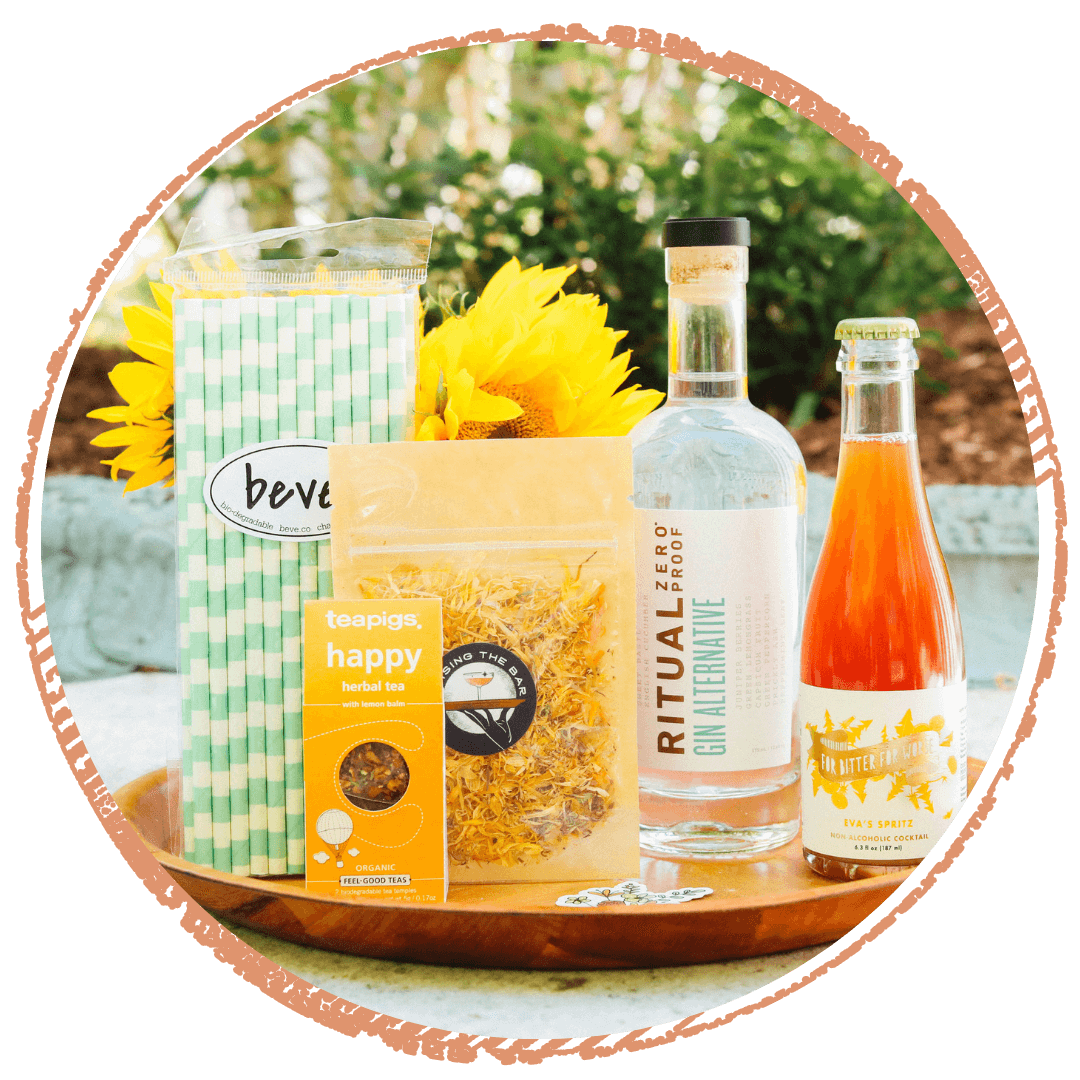 May 2021 - The Happier Hour is a bright and lively thirst quencher with a sophisticated flavor profile, challenging the notion that "Happy Hour" requires the hard stuff. Including Ritual Zero-Proof Gin Alternative, For Bitter for Worse Eva's Spritz and Teapigs Happy Tea.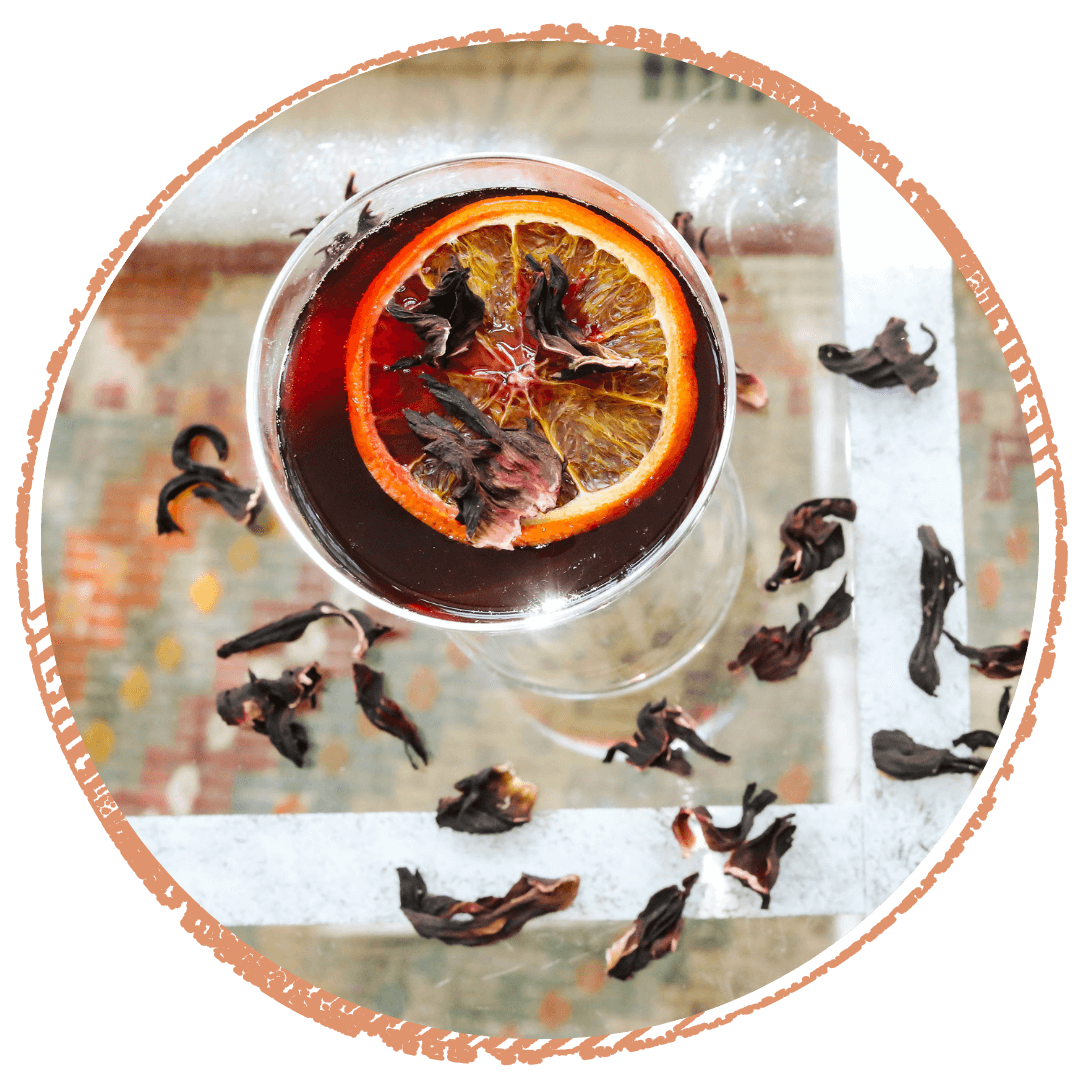 April 2021 - "Spring Awakening" is a robust, jewel-toned drink perfect for enjoying outside on a sunny day. Featuring Cork Hill Sorrel Caribbean Hibiscus Tea, Floral Elixir Co. Rosehip Syrup, Mind Your Mana Fire Brew Citrus and club.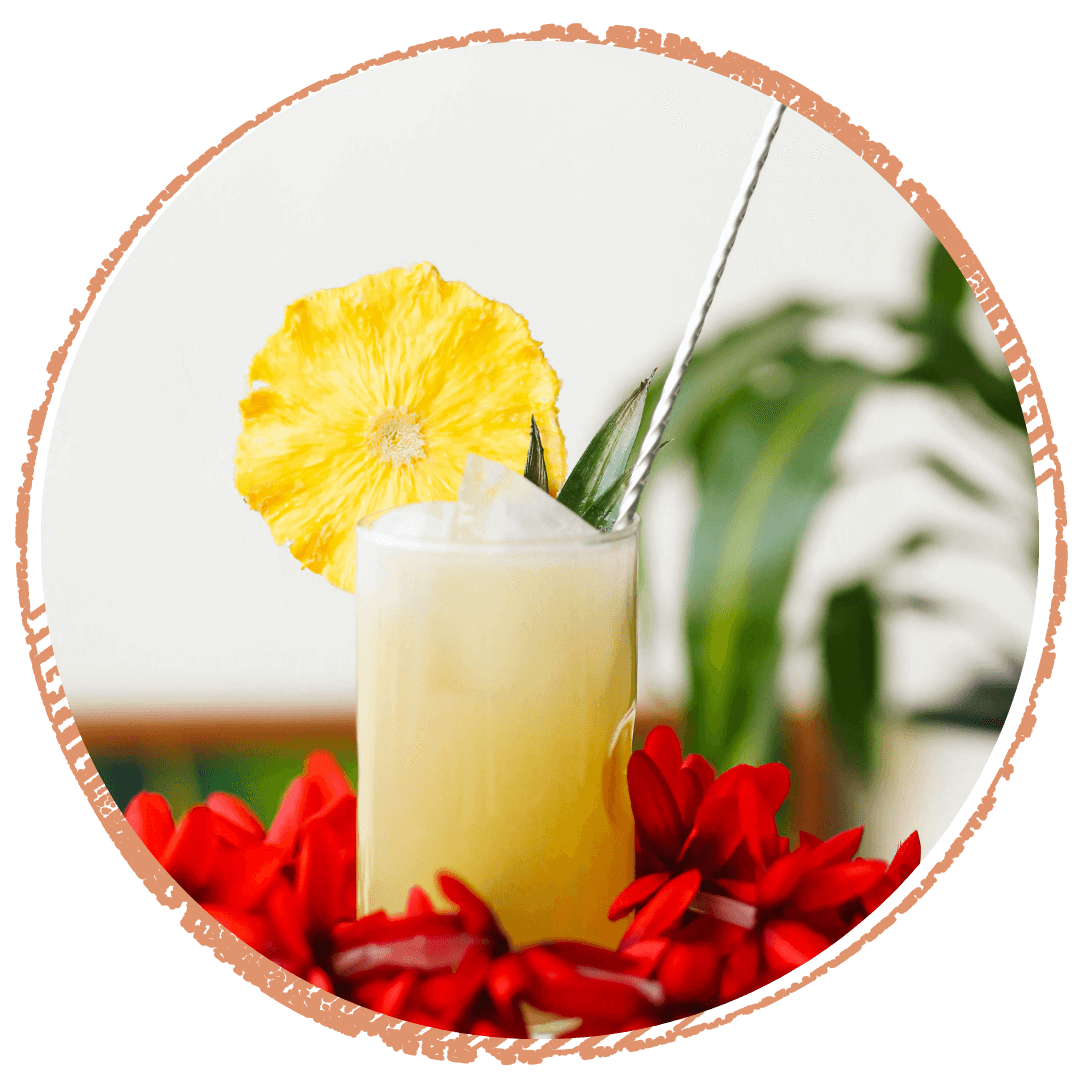 March 2021 - If you're jonesing for a tropical vacation, somewhere warm and breezy, but that's just not in the cards anytime soon - this drink is for you! Som Pineapple Szechuan Cordial, Bang Candy Habanero Lime Syrup, Lime Juice, Pineapple Coconut water and club. 
February 2021 - This floral and smoky combo was one of our faves. We used Lyre's American Malt, Portland Syrups Rose Cordial, Lapsang Souchong tea, an egg white and Aura Bora Cactus Rose sparkling water.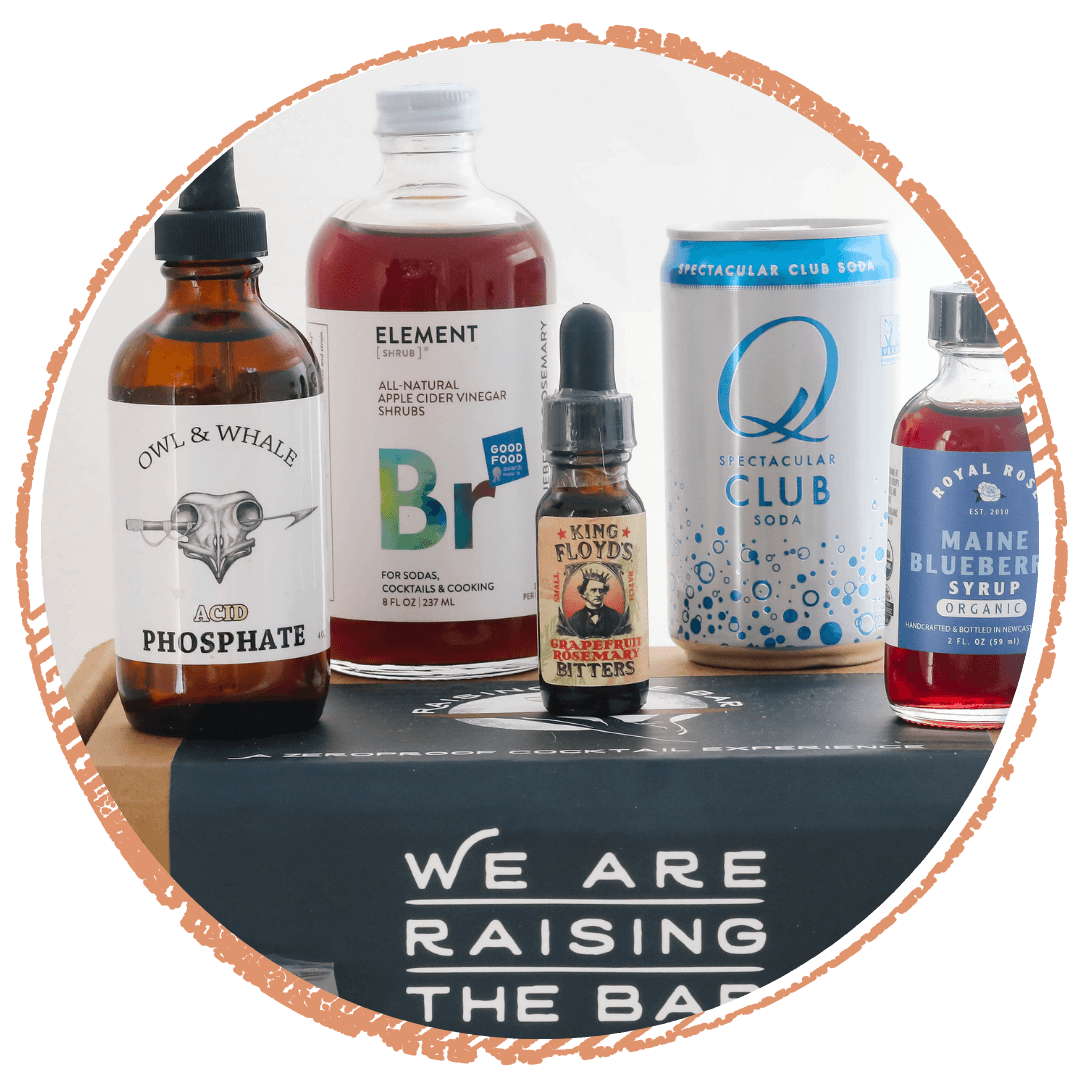 CURE FOR THE WINTER BLUES
January 2021 - Cure for the Winter Blues offers the summery taste of blueberry in a tart, sweet, and complex shrub-based drink. Featuring Element Blueberry Rosemary Shrub, Royal Rose Maine Blueberry Syrup, Owl & Whale Acid Phosphate, King Floyd's Grapefruit and Rosemary bitters and club soda.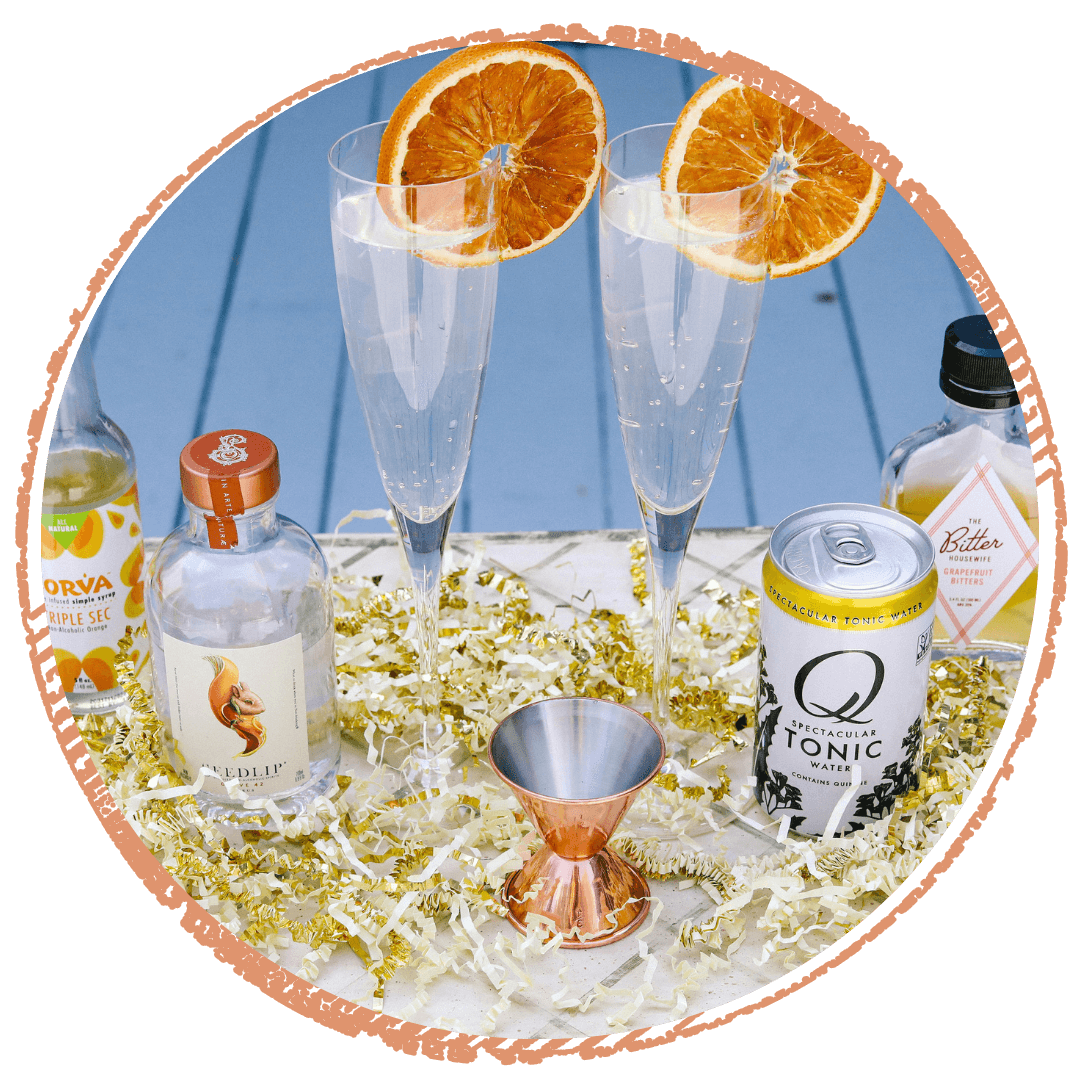 December 2020 - This festive bubbly offers lots of sharp and bright citrus notes tied together with perfectly bitter tonic water. Including Seedlip Grove 42, Sorva Triple Sec, Bitter Housewives Grapefruit Bitters and tonic water.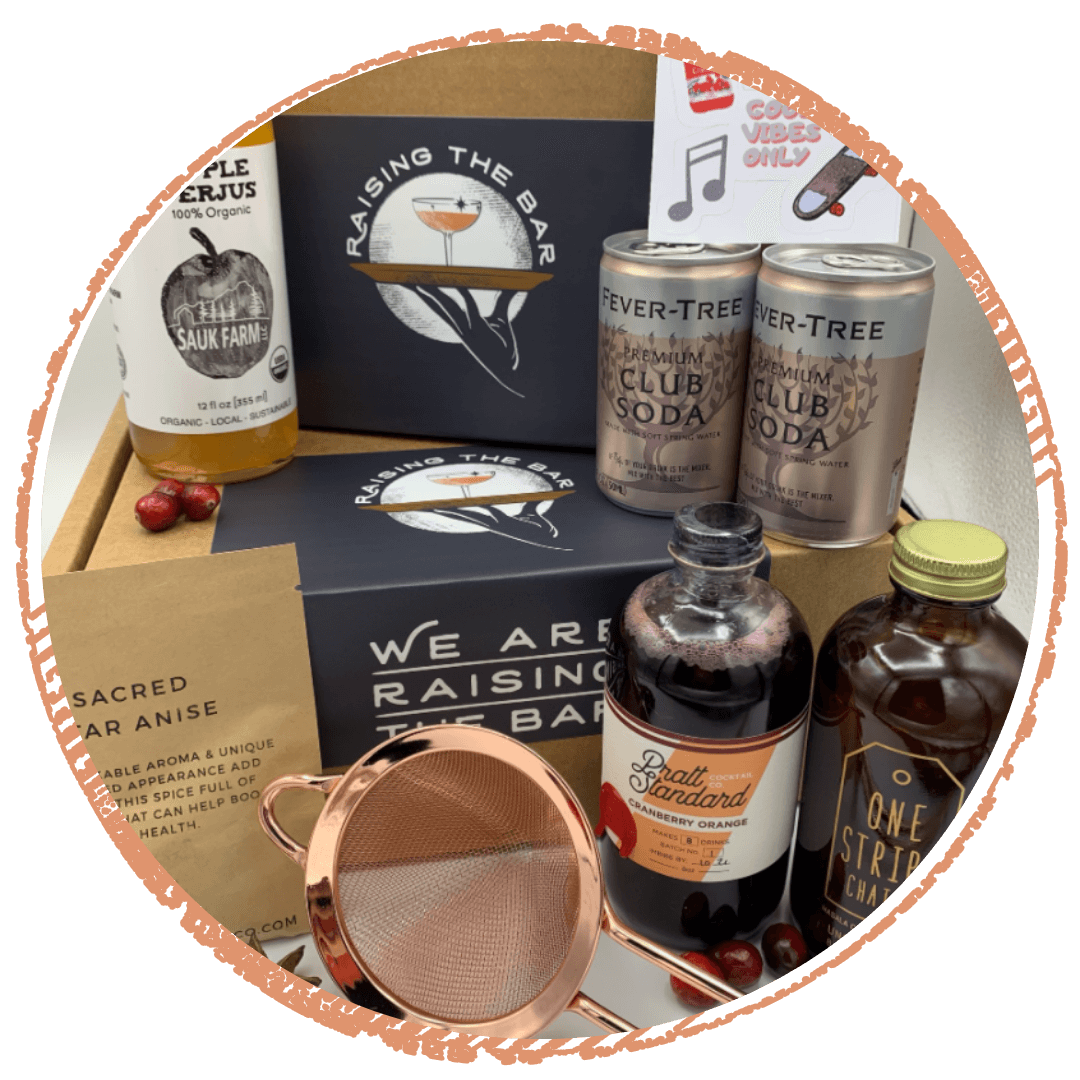 November 2020 - This drink was a tribute to @420doggface208 and his viral TikTok video, celebrating good vibes and cranberry juice. Featuring Sauk Farms Apple Verjus, One Stripe Chai Concentrate, Pratt Standard Cranberry Orange Syrup, club Soda and a star anise garnish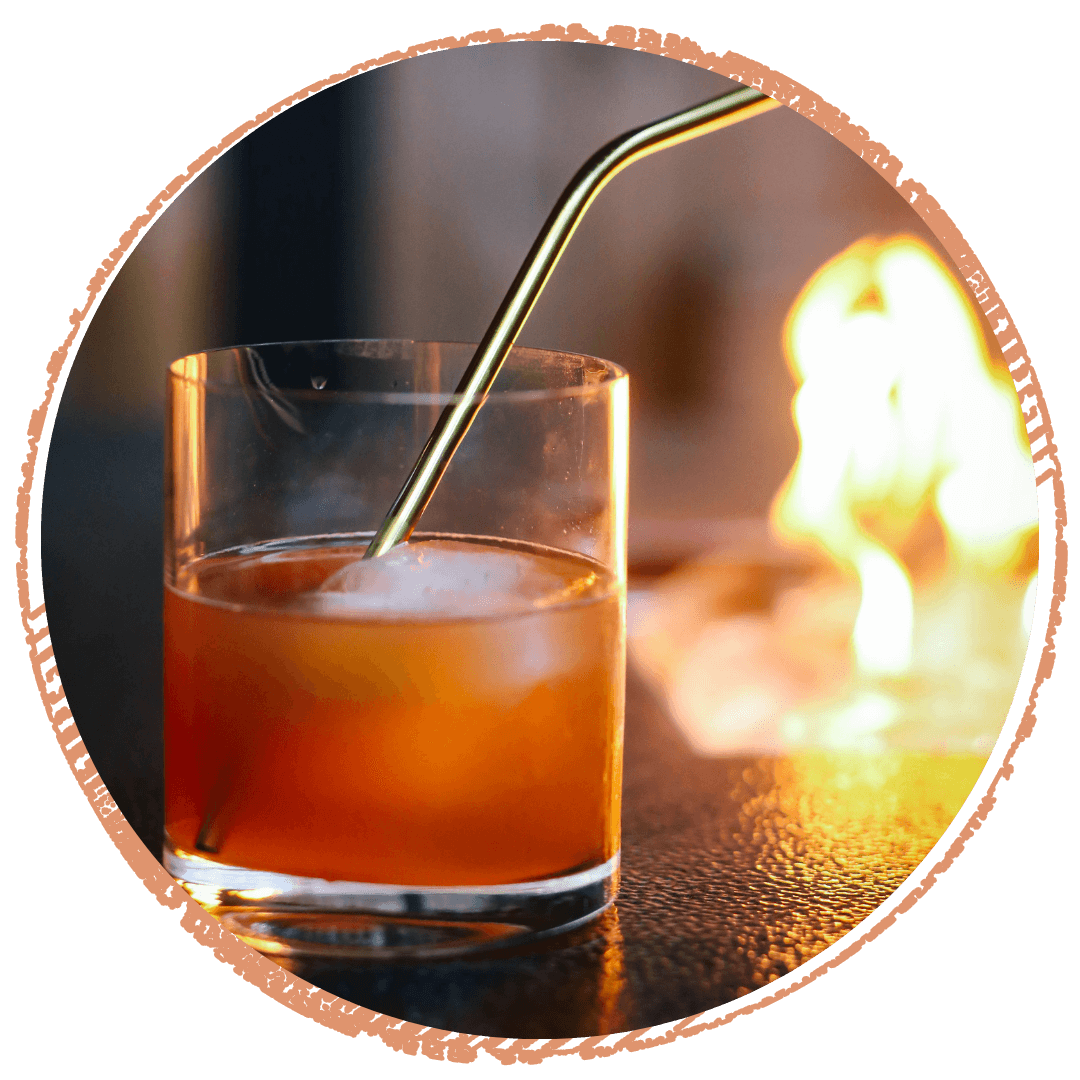 October 2020 - Our drink tribute to 2020 which was nothing short of...well, a dumpster fire. This drink is full of fiery and smoky ingredients that pack a punch, including Mind Your Mana Fire Brew,Runamok Pecan-Smoked Maple Syrup, AVEC Ginger Mixer and Pink House Alchemy Smoldered Bitters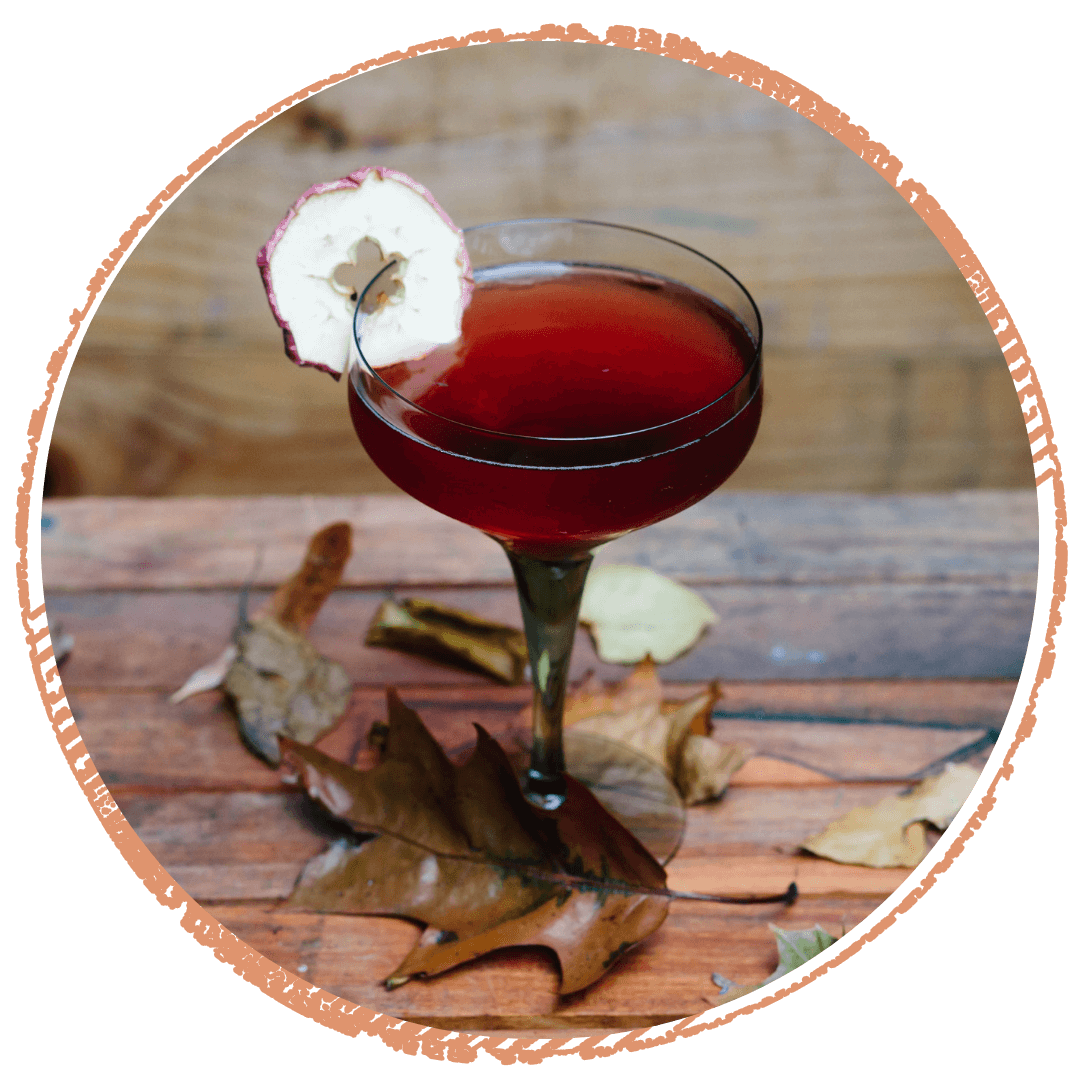 September 2020 - This drink is a little bit sweet and a little bit spicy and uses tea as its base. Includes Winterwoods Tea Company Apple Tea, Portland Syrups Hibiscus Cardamom, Hella Bitters Bitters & Soda Dry Aromatic and a dried Apple Garnish
CURRENT BOX: THE BRUNCH BUNCH
APRIL 2023